Las Vegas City Life, January 14, 2008
by Jarret Keene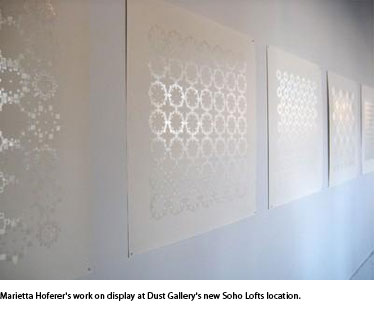 Marietta Hoferer takes great pleasure in scouring New York City hardware stores for different kinds of strapping tape. Unlike most artists, she doesn't need tape to patch canvases or secure art supplies. Instead, tape serves as an artistic medium through which she explores sculptural properties like light, glossiness, texture and stretchiness. Hoferer completely immerses herself in the world of packing tape and finds comfort in learning more about its endless possibilities.
"Even the cheap stuff at 99 Cents Only stores is fascinating," she confesses. "I've found that the fibers are uneven and less perfect than the more expensive stuff."
Indeed, Hoferer is a veritable tape maniac, as her new solo show at Dust Gallery confirms. Called Unknown, the works displayed are made via a simple yet labor-intensive process. First, she starts with a pencil grid and cuts large sheets of white paper with a pair of scissors. Then she begins snipping very small pieces of white and translucent tape and applying them to the paper. The result typically consists of a series of strictly aligned and monochromatic snowflakes, elegant as they are geometrical. And they must be delicately perceived and enjoyed, too. Hoferer's paper works don't leap out and grab your lapel; instead they encourage you to meditate and reflect on their seemingly infinite patterns and subtle luminosity.
Despite her work's mathematical precision, the German-born Hoferer claims creating pieces like the lovely ghost-kissed "Weeds" is an organic, intuitive process.
"The patterns and the imagery you see come from playing around while I'm working," she says. "I only have the vaguest idea when I start out and from there things begin to evolve and grow. The nice thing about tape is that, if you don't like what you see, you can just remove it. There's certainly a lot of flexibility involved."
Hoferer's background is as a sculptor in Berlin. She says she has rarely painted, except briefly as a foundation in art school. Drawing and sculpture have always been her main focus. But after arriving in New York, she soon grew tired of the heaviness and storage problems that are part and parcel of being a sculptor in the big city. Hoferer adapted to her surroundings, though, by becoming obsessed with hardware-store tape.
"It wasn't a conscious decision," she insists. "I merely stumbled across a diversity of tapes in the store and started buying rolls and cutting them up. Tape, I soon discovered, offers so many surprises that lead me to different imagery. For the work, I limit myself to keeping within the white or translucent range of tapes, and the tape itself has so much color, especially when outside light reflects on it. My New York studio faces the midtown skyline, and the lights outside are reflected in the tape. The colors change at certain points throughout the day."
The same is true of Unknown, which is currently on display at Dust's new location at the base of the Soho Lofts building in downtown Las Vegas. Although the gallery faces north and remains mostly immune from direct and prolonged sunlight, the giant glass windows allow for more natural light than before, giving Hoferer's work an extra bit of glint.
The artist is an admirer of the light of the desert Southwest. Last week, in between installing her show and taking part in an opening reception, Hoferer and her husband spent some time hiking at Red Rock and basking in a deep-hued sunset. "The natural light in Las Vegas is amazing compared to New York, and especially compared to Europe," she says. "The reflection of the colors from the canyon walls is really something to behold."
Light is one thing, and pattern is another. While some art critics have identified the influence of Islamic mosque tiles and Roman mosaics in her work, Hoferer says what the viewer experiences is merely the effect of simply geometry. She denies any effort to copy older, established forms of art. And she maintains the idea governing her work -- cutting tape and sticking it on paper -- is something anyone could execute.
Moreover, she goes so far as to say anyone could have executed her entire show with the benefit of very little art training. In her estimation, process is the central part of what she does. Since she doesn't refer to any sketches, she has to get physical with each piece. Indeed, it's only in the physical act of creating these works that she comes up with all her ideas.
Speaking of ideas, has she ever considered getting an endorsement from a major tape company?
"No, but I should probably get one," she laughs. "I would rather take sponsorship money than a free case of tape rolls, though. I don't really need an awful lot of tape to create these pieces."
Unknown Tue.-Sat., 11 a.m.-6 p.m.; through March 23
Dust Gallery
900 Las Vegas Blvd. South, Suite B
880-3878 or www.dustgallery.com